Two years ago (thereabouts) I created a bot on twitter. @IAM_SHAKESPEARE has tweeted nearly 91,000 lines of the Bard's work and is about 80% thru the 112,000 lines. (read the orignal post)
At first I thought it would just be a fun gag and no one would care. Some 16,000 followers later, and thousands of hilarious RT's, scrolling through the mentions and RT's every few days is a sure laugh.
It's pure comedy to see people add their own one liners and take Willy out of context.
A few recent choice examples: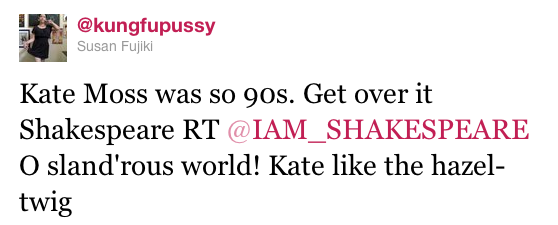 Clearly Willy's words are universal.
So Willy will be done by the end the summer, and I asked his followers if he should start over.. Survey says yes. So look forward to Willy starting fresh with the Sonnets and Macbeth (I think was one of his first plays) this Fall.
At first it was a gag, then it got interesting as people took notice.. now I almost see it as a civic duty to add a little culture to the often times inane and shallow conversation on twitter.
Please continue to enjoy. Willy is here for the duration.
What does it take to get a verified account on twitter now-a-days? You should all harass twitter inc. and tell them to make @IAM_SHAKESPEARE a verified account. hehe. Enjoy – @strebel.