This is not a reference to Obama's skin color.. but what I would call a Obama/Paul 08 independent ticket.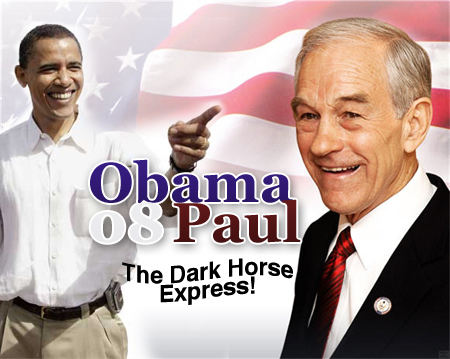 How come the only 2 candidates that seem to have anything to say worth listening too, have the longest shot of winning?
Ron Paul is too smart for his own good and refuses to play the game of politicking. He does little to endear himself to the talking heads that have their own news TV program, and does even less to play the corporate money game that could easily grease the wheels of his nomination. But you say to me, he doesn't need corporate money to get elected, he has all that netroots money. No amount of money in the world will get Paul elected, he stands for everything that the current influence and power structure are against. They will not go without a fight, and their pockets are much, much, much deeper.
Now I like the guy, I think he is just crazy enough that if he was able to get elected, and was even able to get 1/4 of his platform passed an impotent and stonewalling congress, we just may have a chance of bringing America back from the brink. I don't think he has a prayer of getting the Rep. nomination unless his Paulites can somehow how knock off the old RNC guard in some sort of midnight offensive.
Obama.. I like the guy and let me say he has my vote already, but the sad truth is again the status quo is working against him. A blue blood menopausal white wife of an ex-president is as close to a White Male as you can get, and even that is probably too far from the established norm for most of the sheepericans to swallow. Obama has another 15-20 years until the civil rights generation is no longer the "establishment" and then he would have a solid chance of getting elected. When that generation dies, hopefully their prejudices will go with them.
Remember I said he has my vote, but the average American lefty voter is preoccupied with the thought of ol Bill being a first husband, a black man as president may still be too much to process. They can only handle one crisis of consciousness at a time… NASCAR or UFC?.
Since neither of them are going to get their party nominations (I would love to be proven wrong on this) I propose an Obama/Paul or Paul/Obama 08 independent ticket. They have enough support between them, that together they could possibly pull an upset by a slim margin.
So a 3 way run between a Clinton/Edwards for the Dems, Obama/Paul running a middle independent ticket, and 2 god fearing, torture endorsing, over 50 white guys that hate gay Mexicans, for the Reps.
This will be fun to watch.