I have been to my share of conferences. And the #snowcial event I just returned from was the highlight of them all. The concerts, the snowboarding, the people, the good times, the content.. all top notch. But the planning and execution also got my attention.
When we arrived at the hotel, conference check in took all of 30 seconds after good conversation and introductions with the folks working the table.
We were given a schedule of events for the 3 days and headed up to our rooms to drop off our bags and awaiting Jeremy (a speaker) was a hand written thank you note next to a bottle of wine and a plate of cheese and grapes.
Before we went to dinner (that was catered) I went back up to my room and awaiting me (a hour or so after checkin) was a Heavenly branded scchwag bag with my name on it that included my ski pass, my conference pass, concert tickets and wristbands for the dance club, and a nice quality fleece jacket and tons of other good stuff.
Dinner had blackjack and poker tables with free stuff given away for blackjack and just because.
Navigating from one casino to the next for concerts was easy even in an very intoxicated state thanks to personnel in bright green jackets guiding the way.
Skiing/Snowboarding was guided by Heavenly staff.. no waiting in line, and groups were formed based on skill level so no waiting for rookies.
Lunch and dinner was provided every day.
At every turn the event was executed on time and in style…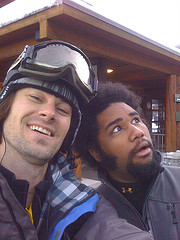 This level of personal attention may be hard to keep up as this event blows up, which it will surely do. But in the meantime.. If you are are putting together any type of event anytime soon, remember the little things and personal details. The superb organization of the event made for a perfect weekend where I could shift my brain into pure fun mode and not have to worry about getting places, feeding myself, or standing in line for anything. Huge props to the organizing staff.
Some links to other write-ups and pics of #snowcial