Starting to feel better after the post sxsw immune system crash. Here are the top 8 for me this year. (Please forgive the shameless namedropping)
1. The Boarding Pass (Friday March 7th, approx 8:20am, PHX Airport)
Arrive at PHX with Sally (my smokin hot wife) and Johan (the crazy danish intern) and breeze through security pretty easy, and arrive at the gate to see other folks from #phx. Sean [name removed to save him from waterboarding at gitmo.. apparently it is a federal offense to tamper with a boarding pass] whom I invited to speak on my sxsw panel let me know the night before he got my boarding pass for me. When I walked up he was anxious to greet me and handed me my boarding pass as seen below.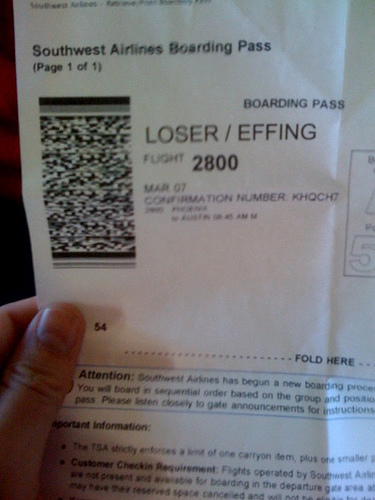 This was the culmination of the prior week long tirade of finding creative ways to call each other "A fucking loser" – male bonding at it finest. I had Sean squirming for a comeback after the last burn I delivered, and happy to say Sean stepped up big with this one.
2. My Panel at SXSW (Friday March 7th, 5:01pm, Room 19AB 2nd floor Austin Convention Center)
Really hard to sum this up.. but it was quiet possibly the highlight of my year so far. Andrew Hyde joined Sean and I for the panel. It started with a Keynote slide of Godzilla.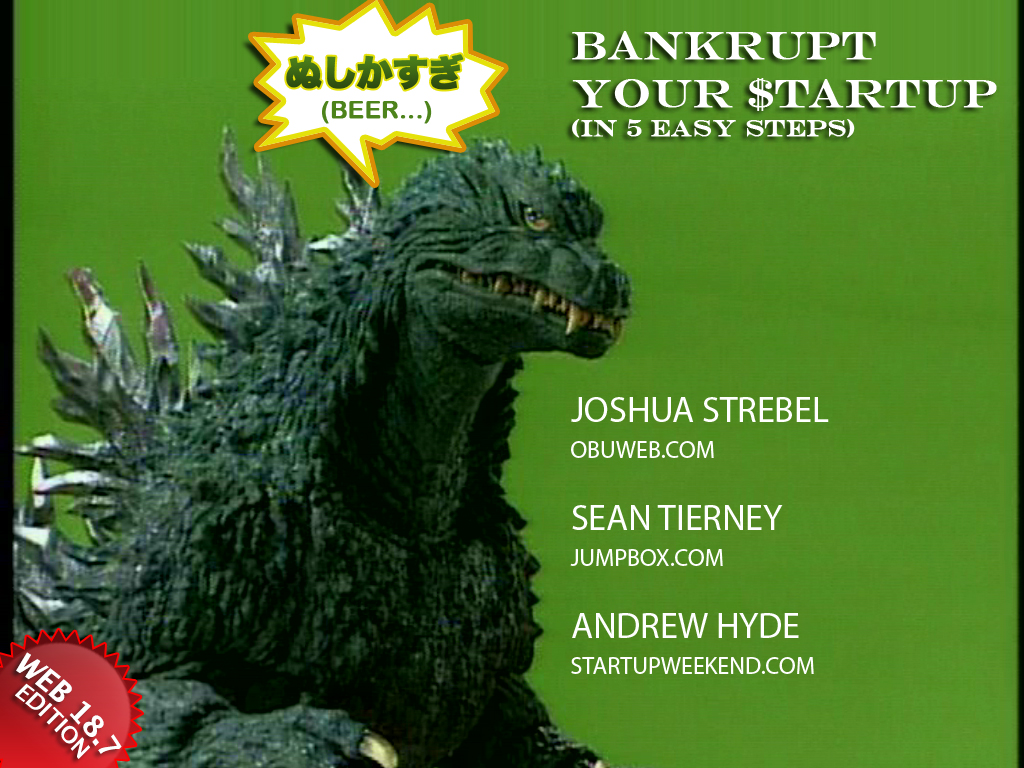 Got to drop the F bomb in the middle…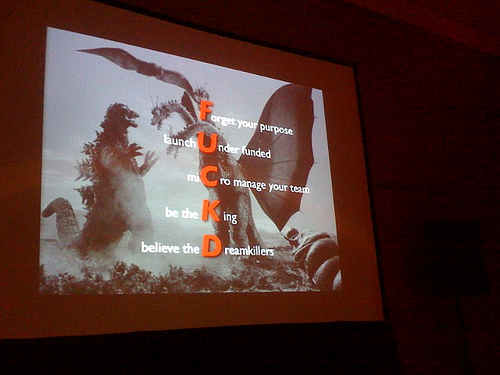 and wrapped with a a special guest panelist, the unicorn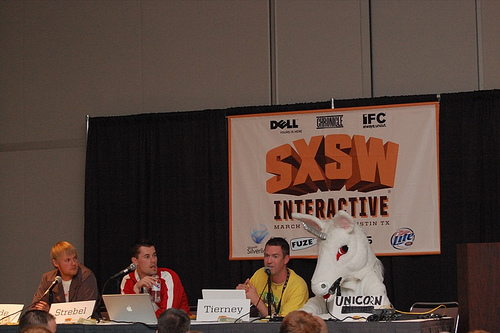 Andrew – Joshua (me) – Sean – The Unicorn
Damn he was smart.. Listen to this interview
The fact a professional writer form Wired.com had to report on the trainwreck made it all the better.
3. PureVolume Night 1 and 2
All the other sxsw parties are cool and all.. but after 1am it is vodka+redbull till 4am. The DJ was slammin, and the people are always chilln. Met Austin from PocketFuzz.com who ran the txt board in the dance room.. was cool; you could txt anything to this number and it was projected on the screen. Hours of fun.
4. The Crazy Weird Carni band at the 16bit party.. no not really
The band was terrible.. but the night saw some highlights:
ordered 2 large pizza's to a bar with 400+ people inside and 400 more waiting in line outside
actually managed to locate the pizza dude when he arrived
navigated pizza through crowd and then nearly ate dirt in the last 5 yards
saw a large chunk of the digg posse jump the back fence
asked Robert Scoble if he was going to show up to the fight the next day that the unicorn called him out on.
the rick shaw ride through Austin
Also the planning for that night was near flawless.. We were 30 minutes early to every party… and therefore a) got drinks early, b) didnt have to wait in line c) got to meet more people who also were not standing in line.
5. Partying with my wife like we were in college again.
This May will be 5 years of marriage to Sally.. And I think besides a few brief episodes in years 1-2.. this was the first sustained party effort together since we were in college. Also it was fun to forget about work, clients, customers, reputation.. all that.. and just be a dumb kid again.
6. Digg Party FTW
I met some very nice people from Digg a few days earlier, and their coolness and a good word put in for me by The Unicorn landed me on the VIP list.
Here is why the digg party bwnd all others;
Same purevolume craziness just 4 hours more 9pm-4am
Met more killer people from digg
Met more killer people from other awesome companies
Met Mark Cuban and got to tell him something like "you have no answer for the Big Cactus, this is the Suns' year"
Met Moby.. See number 7
Sally got a picture with Moby and Mark Cuban
Got some free digg schwag
I think I play guitar hero better the more I drink
The guys from Ustream.tv made me look sober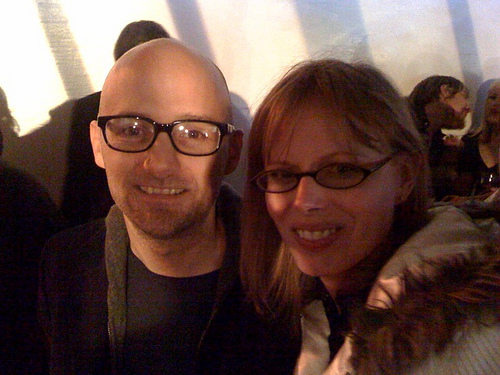 7. GaryVee pwns Moby
Moby comes in the back gate.. he is in the place for of all of 27 seconds and GaryVee innocently goes to shake Moby's hand and knocks his drink to the floor. Moby's drink on Moby's shoes… So there is Gary, and there is Moby.. both giving each other the wtf? look. Was waiting for Moby to break into song of something… Of course twitter reaction time was instant.
8. All the kick ass people
Total Awesomness was everywhere:
The Blue Favor crew et all, Andrei, Paul (Jesus) Nixon, Pistachio, GaryV, Beth, Aubs, Andrew Kortina, Andrew Hyde and the domination of VCWear.com, the Unicorns Agent Matt, Lorenz, Austin, Andy Kaufman, Mel, Jermey, Thanks Jade and Integrum for Dinner, Josh Bloom, Thom Singer, you, and you, and the other guy, and her, and you, and all the other 432 uber rad people I met, drank, and plotted world domination with.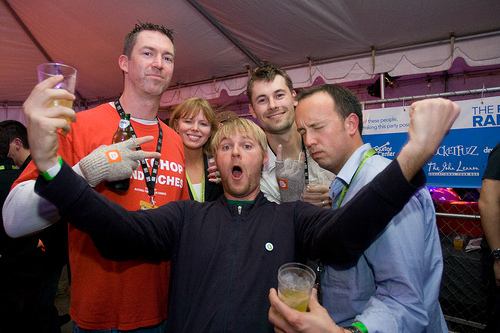 3am ish?
What sucked?
Feeling sick as soon I got off the plane in Phoenix after SXSW, The Facebook Keynote, panels starting at 10.. thats about it.